Changing Perceptions About F&I
By Deb Linsley, F&I Manager at FiQore
My job as a finance manager started about 18 months ago when I took on an entirely new career at FiQore, working with independent auto and RV dealers.  FiQore acts as the dealership's virtual F&I office – an outsourced extension of their team. This was not a career path I had ever envisioned for myself. Like many people, my perception of the finance office in a dealership was not a positive one. From past personal experiences, I dreaded meeting with the finance manager during the car buying process so my initial reaction when the opportunity presented itself was "heck no!"  
In fact, consumer satisfaction studies show that the finance process is the most frustrating part of the car buying experience. Google research perpetuates this mindset with story after story about shady finance managers who are only out to make more money for themselves. Unfortunately, it only takes a few bad actors to poison the well for an entire industry, which has most consumers walking into a dealership finance office with their guard up.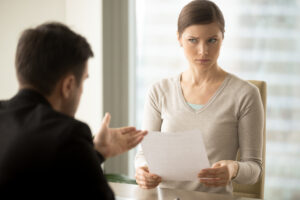 As a lifelong customer advocate in retail, but a rookie in the auto industry, having my motives and morals in question was definitely not what I signed up for. My main concern is always helping my customers–it's truly something I take pride in no matter what kind of products or services I represent. So I set off on my new career adventure determined to change the perception of being a finance manager.  From that day forward, my goal has been to ensure our dealership's customers find joy–and tons of value–in their buying experience, start to finish.  
Seeing F&I through a different lens
The first thing I had to overcome was my own misconceptions as a buyer. Knowing what I do now, I wish I would have listened as the finance manager tried to explain the benefits of a Vehicle Service Contract (VSC) when I bought my used car in 2019. I was quick to say no and did not give the finance manager a chance to explain how a VSC could benefit me. Now that I'm on the other side of the desk, I understand the value of a service contract–especially one that includes maintenance. A service contract with maintenance included pays for itself by covering oil changes, tire rotation, batteries, wiper blades and much more.
The biggest reason to invest in a service contract, however, is having coverage in case something major happens. For example, the average cost to replace a transmission is $2,600. Personally, I do not have that kind of extra cash laying around. Who does? The fastest way to ruin a good credit score is by having a broken-down vehicle sitting in your driveway that you can't afford to fix. Without a car that runs, you can't get to work and when you can't get to work, you can't make your car payment. I've heard this story a thousand times from customers with credit problems. So once I understood the financial risk myself, I purchased an aftermarket service contract for my personal vehicle.  However, it is way more expensive for less coverage than the one I could have purchased at the dealership during the financing process.  At least I'm protected now, but it was an expensive lesson to learn. 
Another important product that good finance managers talk to their customers about is GAP (guaranteed lease/loan payoff protection), especially with the market volatility we've experienced the past year. GAP coverage protects your credit and your savings account if there's a total vehicle loss due to accident or theft. For example, if you owe $25,000 on your loan and your car is only worth $20,000, a GAP policy covers the $5,000 difference, minus your deductible. Trust me, there are a ton people driving around right now in vehicles that are worth less than what they owe the bank. 
FiQore's approach to F&I is solutions, not sales
When I help my dealership's customers secure a vehicle loan, my first priority is finding a payment they can afford–comfortably. My second priority is protecting their new asset. On top of securing great loan terms, I work very hard to try and add a VSC and GAP for less than $30 a month. According to AAA, annual maintenance costs on a used vehicle average around $900, or $75 per month–so it makes me feel good that I'm already saving my customers money…and heartache down the road. 
I understand not every finance manager has access to the in-depth product, compliance and ethics training I received at FiQore, but for your own sake, give them a chance when you purchase your next used vehicle. Learn about the products, do your homework and don't assume negative intent. Get to know the finance manager and let them get to know you. You can always say no, but at least you'll do so armed with all the information and options that are available to protect your investment. And you'll likely make a new friend in the process as most finance managers, like me, just want to make their customers happy.